Travel to Mauritius | Paradise Regained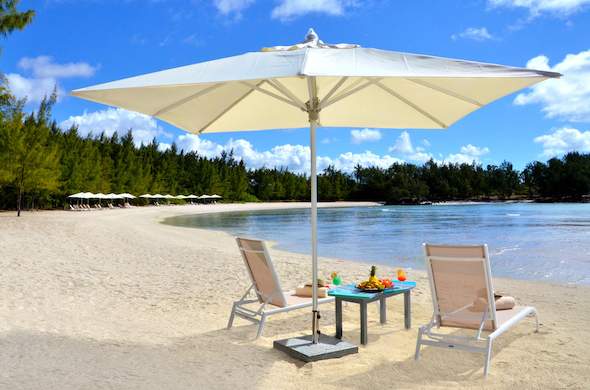 With its idyllic setting, warm tropical climate, accessibility and diversity, Mauritius is the ideal year-round island destination for South Africans.
Whether it's the exquisite beaches, beautiful mountain ranges, romantic and family resorts, or the melting pot of cultures, religions, and cuisine, Mauritius is a paradise that extends beyond its beaches. The country has become the tropical island of choice for both thrill and chill seekers.The country has become the tropical island of choice for both thrill and chill seekers - from honeymooners (Mauritius and honeymoons have become synonymous over the years) to families, singles, retired couples, and corporate travellers (corporate incentive programmes, conferences and more).With daily direct flights of under four hours from Johannesburg, Mauritius is easily accessible for South Africans. On top of that, it offers diversity unlike many other island destinations - from exquisite beaches and a myriad of water-based activities, to world-class resorts and spas, to mountains and valleys for nature lovers and hikers, and natural scenic beauty and a lush, tropical interior offering adventure abound - Mauritius has something for everyone.A unique and critical success factor of tourism in Mauritius is the hospitable nature of the people, and a commitment that everyone has to the industry. From the Prime Minister to the local people, every Mauritian understands the importance of tourism for their country, and welcomes visitors to their shores, making them feel at home from the moment they step off the plane until the moment they depart.
Fact File
Approximate Banking Hours
Monday to Thursday: 9 am - 3:15 pm, Friday 9 am - 5 pm. Some banks are open on Saturdays from 9am to noon.
Climate
Mauritius has tropical climate, with abundant sunshine and warm weather all year round. On average, the temperature ranges from 16 to 27 degrees in the winter, and 20 to 33 degrees in the summer. The summer months are from October to April, and the winter months from May to September. The central part of Mauritius, called the Central Plateau, generally gets colder and wetter weather. South East Trade Winds blow from the south-eastern part of the island, bringing a welcoming cool breeze to the island.
Culture
Mauritius is a blend of cultures and religions. The demographic population consists of people of Indian, Chinese, European, and Creole backgrounds, with the majority being of Indian origin. The Creole population refers to people who are of mixed backgrounds from colonial times, and are usually descendants of slaves and Europeans. Although a secular country, most Mauritians believe in religion, the major ones being Hinduism, Islam, Christianity, and Buddhism.
Currency
The monetary unit is the Mauritian Rupee (Rs.) which is divided into 100 cents (cs). 1 South African Rand is approximately Rs 2.60, and 1 Euro is about Rs 39.30.
Driving
People in Mauritius drive on the left-hand side of the road and give way to the right. Foreigners with a driving licence issued by a competent authority in their respective countries are usually allowed to drive during their stay in Mauritius.
Economy
The Mauritian economy is based on four sectors: Textile, Tourism, Sugar and Services. The majority of the tourists come from England, France, Germany, South Africa, and India.
Emergency
Police (ambulance ): 999, Police : 208-7018/20 Fire : 995, Emergency (Samu): 114
Flights
Air Mauritius operates over 30 weekly flights to and from all major European cities, including 15 combined flights with Air France to and from Paris. British Airways operates four weekly flights, Emirates Airlines three and Condor one. There are daily flights from South Africa, which fly out twice daily from Johannesburg.
Geography
Mauritius is located approximately 2000 kilometres to the south eastern coast of Africa and lies east of Madagascar on 20°5, 57.5E. It covers an area of 1865km, with 330 kilometres of coastline. Mauritius is 45km in width and 65km in length.
Government
Mauritius is a democratic state based on the Westminster model, and enjoys political stability.
Health
Mauritius is a fairly safe country to visit. No vaccinations are required. However a yellow fever vaccination certificate is required for travellers over 1 year of age who arrive from areas where yellow fever cases are reported.
History
Of volcanic origin, and generally sheltered by barriers of coral reefs forming natural, safe, crystal clear lagoons, Mauritius has long been a dream destination. Known to the Arabs as early as the 10th century, but officially discovered in 1505 by the Portuguese navigator Pedro Mascarenhas, the island was occupied successively by the Dutch (1598-1712) and the French (1715-1810), and was ceded to Great Britain in 1814 through the Treaty of Paris. On 12 March 1968, Mauritius became independent. Republic Day was proclaimed on 12 March 1992.
Language
Most people in Mauritius are bilingual and are fluent in English and French, however Creole and French are the main languages for everyday use. Oriental languages are taught in school, with Hindi and Urdu being the most popular ones, especially due to the popularity of Bollywod movies.
Medical services
Free public medical facilities are widely available. Private clinics provide medical services for a fee. sunbathing are frowned upon on our public beaches. No hotel permits nude sunbathing on beaches. Topless sunbathing is sometimes tolerated.
Population
1.26 million (Year 2015)
Public holidays
There are 15 public holidays every year. Seven of them are fixed holidays: January 1st & 2nd, 1st February, 12th March, 1st May, 2nd November and 25th December. The remaining public holidays are religious festivals whose dates vary from year to year.
Security
A tourist police service has been set up to ensure security in tourist zones. An anti-terrorist law has also been proclaimed. A specific law relating to all tourist activities and corrupt practices has also been voted.
While Mauritius is relatively safe, it is important to still practice safety measures
Keep an eye on all personal belongings at all times.
Be careful when withdrawing money from a cash point.
Avoid wearing expensive jewellery.
Do not leave anything inside your car.
For trips or purchases use only recognised operators or suppliers.
Keep your passports, plane tickets, jewellery of value and large sums of money in safe custody.
For sea excursions, do not rent boats with inadequate security standards.
During individual sea trips, always notify the person responsible for the boat house.
Do not go swimming in areas where it is forbidden.
Visa & entry requirements
A visitor must be in possession of a valid passport and a return or onward ticket. A visitor's visa is normally granted for a period of two weeks to one month upon arrival, to almost all holders of a valid passport, with one or two exceptions. Visitors are strongly recommended to contact the Passport and Immigration Office in Mauritius or the nearest Mauritian Embassy or Consulate for more information.
The visa can be extended upon request at the Passport and Immigration Office, Sterling House, 11-19 Lislet Geoffroy Street, Port-Louis, Tel : (230) 210-9312 to 210-9317 Fax (230)210-9322.
What to wear
Take your best beach and casual wear. In the winter months (June -September), carry some light woolen clothing for the cool evenings, especially if staying on the eastern and southern side of the island. Please show due respect when visiting religious places, particularly temples, mosques, and churches. Wear appropriate clothing (and remove leather shoes and belts) when entering the premises.
Working Hours
Private Sector : Monday to Friday: 9 am - 5 pm; Saturday : 9am -noon (only some offices). Public Sector : Monday to Friday: 9 am - 5 pm; Saturday : 9 am - noon (Skeleton service).