Family Travel in Mauritius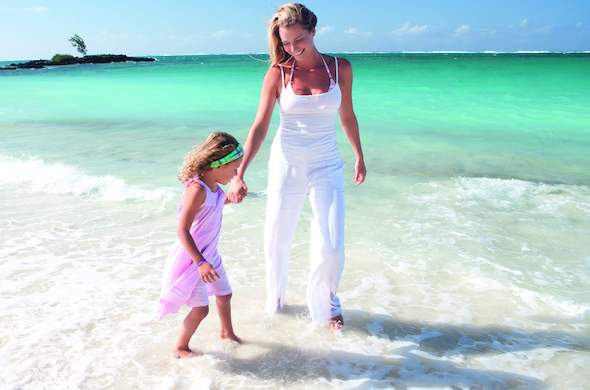 Mauritius is widely known for being a romantic holiday, whether for older couples seeking some quality time, or for honeymooners about to start a new chapter in their lives. However, Mauritius does indeed have a lot to offer to every type of traveller, including families with children.
Most resorts even offer kiddies' club to keep the young ones occupied all day while the parents try to enjoy some peace and quiet. Outside of hotels and beach resorts, there are many other places that the kids will enjoy, such as:
Pamplemousses Botanical Garden
The Pamplemousses Botanical Garden in the north contains various species of plants along huge acres of land, such as water lilies, lotus, and baobabs. A lot of endemic flora can also be found in the botanical garden. One of the main attraction for kids are the giant tortoises who call the garden their home.
La Vallée des Couleurs
Aside from the indigenous fauna and flora, this place is incredibly beautiful and is surrounded by natural landscape such as valleys, mountains, crater-lakes, waterfalls, and the 23-coloured earth, a natural phenomena formed from volcanic ashes millions of years ago. Moreover, the multitude of activities like quad biking and zip lining will make the trip even more fun.
Blue Bay Marine Park, or Turtle Bay Marine Park
The only two marine parks in Mauritius, both contain a diverse marine life, with beautiful fishes and corals. There are plenty of snorkelling and diving opportunities for families, which the young ones will definitely enjoy. Watch out for the sea turtles at Turtle Bay Marine Park, who live among the fishes in complete harmony.
Chamarel
This 7-coloured earth at Chamarel is a phenomenon formed from the decomposition of volcanic rock, but the sands have settled into different layers without mixing, creating seven different colours. Giant tortoises are often seen around the park, and the beautiful Chamarel Falls are nearby, as well as the Curious Corner of Chamarel for illusions and entertaining perspectives. There are also some fun activities available, such as zip lining, mountain biking and horse riding.
Casela Nature Park
This one is a favourite among those families, even locals, due to the myriad of customized activities readily available. Those include zip line, canyon swing, giraffe feeding, tilapia fishing, camel riding, interactions with lions, a water kingdom with slides, quad biking, and a mini safari. Educational and guided tours are a fun way for children to learn about the animal world.
Catamaran Cruises
Catamaran cruises are popular on the island, and kids will definitely love these scenic and pleasant boat trips. Most catamarans offer opportunities for snorkelling and diving, and include lunch and drinks on the boat. A trip on a catamaran to Iles aux Cerfs is a must, and a cruise along the west coast near Tamarin is recommended for dolphin spotting.
Underwater Sea Walk
A unique attraction in Mauritius, this activity is an incredible experience for adults and children (10 years and up). A safe and entertaining walk in shallow waters, it allows you to breathe underwater in a helmet, and walk among fishes, corals, and other sea creatures. Lifeguards are there to assist with everything, but for those feeling apprehensive, an alternative but similar activity is the Blue Safari Submarine, where you can observe underwater life from the comfort of your seat inside the vehicle.