Things to do in Mauritius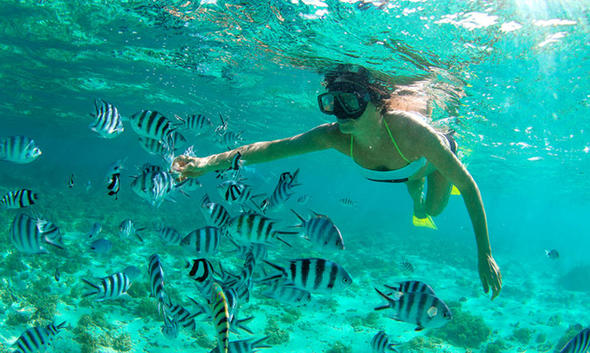 A holiday in Mauritius offers many exciting activities and a fun array of water sports.
Each year thousands of young adventurers flock to the Island of Mauritius in search of the perfect summer holiday and amazing water sport activities on this year-round holiday destination. Indeed they usually find more than what they bargained for.
Mauritius has lots to offer to the young as well as the old. Most hotels offer exclusive spa and wellness facilities, water activities, and even kids' clubs. For those seeking a romantic getaway, there are plenty of fun activities available, such as horseback riding along the beach, private tours of the island, and hiking.
A day at the races in Port-Louis at the second oldest turf club in the world is a local expedition, where you can also find plenty of delicious street food and treat yourself to fantastic local cuisine. There is something for everyone.
Snorkelling and Diving
Diving in Mauritius is an incredible experience for pros and amateurs alike. Mauritius offers an intimate view of the fascinating underwater ecosystem and its awe-inspiring sea life. Crystal-like tropical waters and kilometers of richly diverse coral reefs that attract numerous fish species and other sea life certainly offer top dive sites.
Dive Training
The Mauritian island is an excellent place to learn how to dive. There are several certified dive schools on the island and many hotels even offer their own private dive courses which are also certified. If you don't need training you can always rent high-tech equipment from these places or book a dive guide.
Golf
At the risk of sounding cliché, Mauritius is most definitely a golfer's paradise. A year round destination with warm weather, great facilities and beautiful settings, golfers are assured a positive golfing experience.. With golf courses, golf clubs, and a championship golf course site, very few will be able to resist.
Undersea adventure and water sports
You need not be an avid swimmer to take advantage of this island's water sport opportunities. To view the healthy corals of the Indian Ocean you don't even have to get wet. Take tours on glass-bottom boats for a glance of the shallows. And if you are a little bit more adventurous, the Island of Mauritius is bound to quench your thirst for excitement. Hit a few waves or go kitesurfing, or parasailing. The Sub scooter is a new and thrilling way to explore the underworld, and in this little machine you are your own pilot.
Cultural exploration
Mauritius is a diverse island with a blend of different cultures. A mixture of Indian, Chinese, African, and French influence has greatly impacted the cuisine, which is not to be missed. Moreover, there are plenty of temples and other religious, cultural, and historical places to visit on the island, where one can learn about the history of Mauritius and how it came about.
Non-beach adventures
While Mauritius is usually known for its beautiful beaches and protected lagoons, there is so much more to see. There are many hills and mountains to be explored, and the view from the top is definitely worth the trek. There are so many beautiful waterfalls on the island, and Chamarel, the 7-coloured volcanic earth, is a beautiful natural phenomena. Nature lovers will enjoy nature walks, the Botanical Gardens, the national parks and wildlife reserves with endemic flora and fauna, and the bird watching activities.