Cultural Exploration and Attractions in Mauritius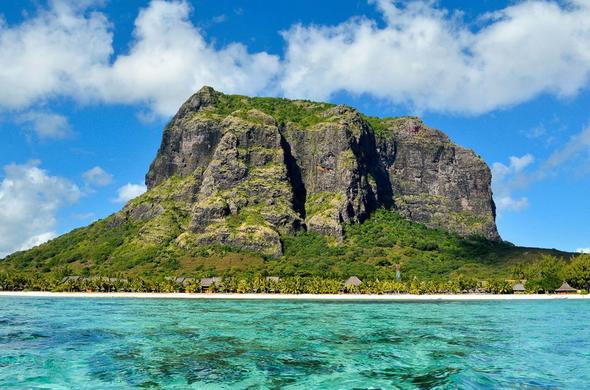 Mauritius has so much more to offer beyond its pristine beaches and turquoise lagoons. Travelers will delight in exploring the rich history, cultural sights, and trying the local cuisine of the island.
Aapravasi Ghat
One of the two UNESCO World Heritage Site in Mauritius, the Aapravasi Ghat is located in Port-Louis along the highway, and is easy to miss. In fact, a lot of Mauritians drive past it everyday and pay no mind to it; however, don't let that perceived indifference fool you. The Aapravasi Ghat is symbolic for Mauritians, especially those of Indian descent, as it was the first site during British colonialism where indentured labourers arrived from India. "Aapravasi Ghat" in Hindi means "Immigration Depot".
Le Morne Brabant
The second UNESCO World Heritage Site, Le Morne Brabant is a mountain in the southwestern tip of Mauritius. It is an iconic rugged mountain which served as a refuge for runaway slaves during the 19th century, and is a cultural landmark. Locals and tourists alike enjoy the walk up the mountain, which offers a spectacular view of the Indian Ocean. To reach the mountain peak, which is the second section of the mountain, a guide is required. After the trek, many head to the beautiful lagoon, Le Morne Beach, to cool down.
Grand Bassin
A sacred place for Hindus, Grand Bassin is located in a crater lake in the district of Savanne. It is a calm and serene place, and requires a proper dress code (legs and arms need to be covered), and shoes are taken off before entering the temple. During the festival of Maha Shivaratri, usually around February or March, many Hindus go on a pilgrimage journey to Grand Bassin on foot, and carry offerings and statues, while volunteers stand by the road side and offer drinks and food. Grand Bassin is also known as "Ganga Talao" or Lake Ganga, referring to its connection to the river Ganges in India.
Bois Chéri Tea Plantation
This tea plantation is the oldest one in Mauritius, and is a major attraction as it includes a tour of the museum, a visit to the tea factory where the famous sought-after vanilla tea is made, and a scenic lunch at the restaurant on site. Located in the Savanne district in the southern region of the island, Bois Chéri offers a tranquil and green atmosphere, allowing you to sample delicious local tea while learning about tea history in Mauritius. It is recommended to visit in the morning before noon, in order to witness the real action of tea harvest.
Sugar Mill Museum - l'Aventure du Sucre
Sugarcane used to be the only source of economy for Mauritius, and is central to the island's history. Sugarcane fields can still be seen all over the island, from the main roads to more secluded areas. To really understand the history of sugarcane and how it's steeped in the Mauritian culture, along with the rum trade, slavery, and much more, a trip to l'Aventure du Sucre in Pamplemousses museum is a must. A fabulous restaurant with beautiful views is on site, ready to dazzle you with delicious Mauritian cuisine.
Rhumerie de Chamarel
Located in Black River in the southern part of Mauritius, the Rhumerie de Chamarel is set on a beautiful plantation offering gorgeous views in a serene setting. One of the rare distilleries that still cultivates its own sugarcane, the Rhumerie also functions as a museum, and is a delightful trip for those interested in rum tasting and the intricate processes that go into creating some of the best rums in the world. An upscale restaurant on site offers delicious meals, made with ingredients sourced from the estate itself.
Château de Labourdonnais
The Château de Labourdonnais is a beautiful colonial house surrounded by beautiful gardens and orchards, in the northern part of Mauritius. A cultural attraction, the Château allows visitors to get a feel of what it was like to live in the 19th century as a colonist. The orchards are beautifully lined up with all types of trees, including exotic tropical fruit trees and spice plants. Visitors are able to taste and sample products from the distillery on site, as well as fruits from the orchards, and can even purchase delicious jams, fruit juices and other products from the shop.
Citadel (Fort Adelaide)
Locally known as Citadel, this fort is located in Port-Louis, on top of a hill at a height of 100 meters. The fort allows you to look out at the harbour and the city, which made it an excellent place from which to guard the island from outside visitors during British colonial times. The fort is now a National Monument, and attracts many visitors, including locals, for its lovely views of the capital city and mountains. The fort also serves as a platform for shows and concerts.
Museums in Mauritius
There are plenty of museums in Mauritius to keep visitors busy. These include the Blue Penny Museum at the Caudan Waterfront, the Mauritius Post Museum at the Port-Louis Waterfront, the Chinese Cultural Heritage Museum in Port-Louis, the Mahebourg Naval Museum in Mahebourg, the Frederick Hendrik Museum in Vieux Grand Port, La Maison Euréka in Moka, and finally the Natural History Museum in Port-Louis.
Séga Performance
Séga is the traditional music of Mauritius, and has significant importance to Mauritians as it was used as a form of self-expression during times of slavery. Performances are usually done at hotels, where the dancers would sometimes engage with the audience and offer impromptu dance lessons after the show. Often times at Flic-en-Flac beach, many locals gather around on Sundays to play the instruments and sing.
Cuisine
A huge part of discovering and understanding Mauritian culture is in its food. Mauritius is made up of a blend of cultures coming from India, China, Eastern Africa, and European (mostly French). Some of the most popular foods include: mine frire (stir-fry noodles), dholl purri (a Mauritian street food made up flat bread, dhall, and curry), dim sum, fish vindaye, mithai (sweet Indian treats), alouda (a pink sweet milky drink), French pastries, and a variety of street foods which include samoussa, gateau piment (deep fried chilli cakes that rarely contain any chilli), and other deep fried goodies.