Hiking in Mauritius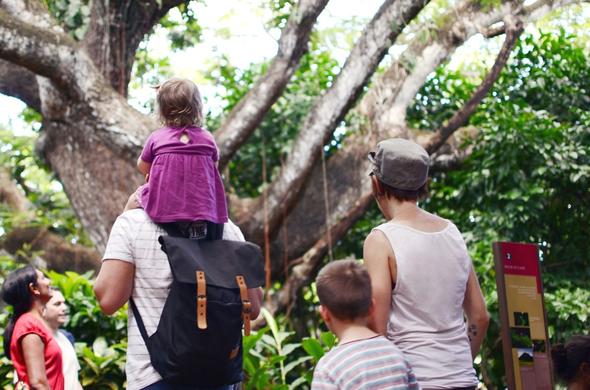 When most people think of Mauritius, what usually comes to mind is white soft sand with crystal-clear turquoise lagoons. But Mauritius has a lot more to offer than just beaches and water-sport activities.
Hiking is a fun activity that many locals enjoy in Mauritius, and rarely requires an entrance fee. Not only does it offer an amazing cardio workout, but it also usually provides a splendid view of Mauritius and the Indian Ocean. The hiking trails usually range from easy and mild to intermediate. Some, albeit few, can be a bit more challenging. Below is a comprehensive list of the most popular hiking trails and routes, ranging from easiest to more difficult.
Trou aux Cerfs Crater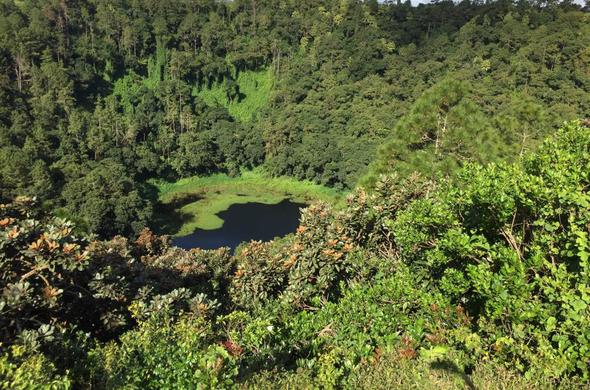 Trou aux Cerfs is a dormant volcano in Curepipe, in the center of the island, where you can walk around the crater at the top and enjoy a nice view of the city. A mild flat walk, many Mauritians who live in the neighbourhood enjoy jogging around the crater in the morning and afternoon. The environment is beautifully lined with flowers, and due to the sporadic rain in Curepipe, there are always rainbow arching over the volcano. To circle the whole crater would take probably less than 30 minutes.
Ferney Valley
The Ferney Valley is a wildlife reserve, and is highly protected due to the endemic plants and animals that were discovered in the region. The indigenous biodiversity attracts locals and tourists alike, and there are plenty of easy walking trails running through the forests, usually conducted by guides.
Signal Mountain (Montagne des Signaux)
Located in Port-Louis, this hike is more of a leisurely uphill walk on a paved road, rather than a hike in the traditional sense of the word. Mauritians of all ages take advantage of this trail for its cardio workout and magnificent view of the city. The walk all the way to the top takes about an hour or so, depending on walking speed, and can be done solo, as it is very safe.
Black River Gorges National Park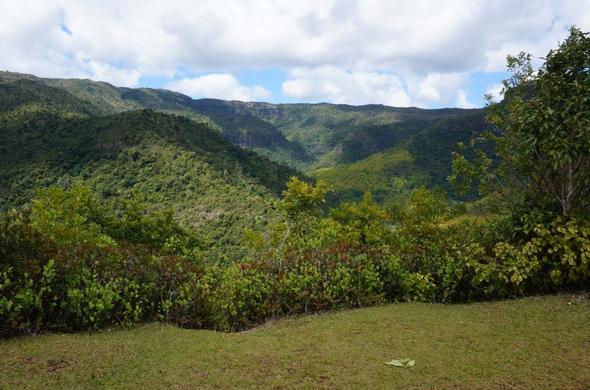 A hilly park in the south-western part of Mauritius, it is a protected area in Mauritius, covering over 65 km sq. There are many trails and routes that can be explored in the Gorges, and a guide is recommended for those wanting to explore the longer, more strenuous trails. The National Park is home to the Mauritian Kestrel, pink pigeon, Mauritius parakeet, as well as other endemic birds. Beautiful flora is abundant in the Gorges.
Le Pouce Mountain ("Thumb" Mountain)
Named Le Pouce for its thumb-shaped outline, this hike can be explored solo, but a guide is recommended. The hike can start from Port Louis or from St-Pierre (which is the local favourite starting point), and takes about 3 hours and 30 minutes to complete. The hike is at an intermediate level, and offers a 360 degree view of Mauritius.
Lion Mountain
The Lion Mountain is named so because it is shaped like a majestic sitting lion. The hike level is intermediate, as it is not too physically challenging, but does require walking up 102 steps, and climbing over a few rocks and fallen trees, and following paths that are not always clear. There are two routes that lead up to the top, both offering splendid views of the south east of Mauritius and the ocean. The hike takes about 3 hours in total, and a guide is recommended.
Black River Peak and Piton de la Petite Rivière Noire
The Black River Peak (also known as Piton de la Petite Rivière Noire mountain), and is the highest point in Mauritius, at 828m. There are different routes going up the mountain, ranging from mild to intermediate, to a longer and more challenging trek. A guide is recommended for the hike, which takes about 4 to 5 hours in total.
Le Morne Brabant - The Slave Route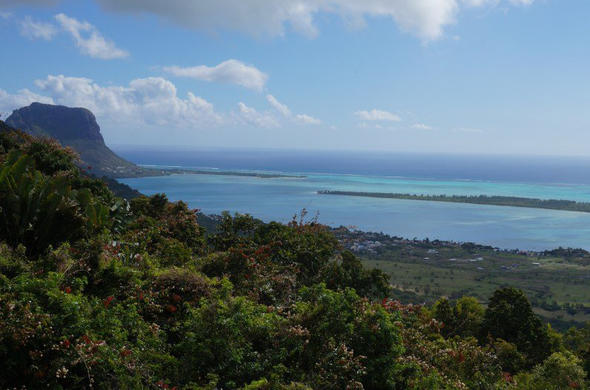 A UNESCO World Heritage site, Le Morne Brabant has a sad history. A refuge to runaway slaves in the 19th century, many slaves committed suicide by jumping off the rock, as they believed that they had been found, when in fact, the police expedition that was sent to search for them was to inform them that slavery had been abolished and they were free.
The trek up to the peak is the second section of the mountain, is quite steep, and requires a guide by law. The first part of the route is a mild uphill walk with a straightforward path, and does not require a guide. This hike is popular among locals and tourists as it offers an astonishing view of the Indian Ocean, with some sightings of the rare endemic national flower, "Boucle d'Oreille".
Trois Mamelles Mountains
This mountain has three peaks, hence the name Trois Mamelles, trois meaning "three" in french. The middle peak is the most accessible one, whereas the other two might require hiking gear. This trail starts in the sugarcane fields, and is not too difficult to follow. A few places are slightly steep and rocky, and require some upper body strength.
To reach the very top, which is optional, there is a ledge area that can be reached by holding on to the metal bar handle attached to a rock, however the pathway is extremely narrow with nothing but a wide open space next to it. Those with vertigo and a fear of heights are advised to not go to the top. The hike should not take more than 3 hours to complete, and requires a guide.
Seven Waterfalls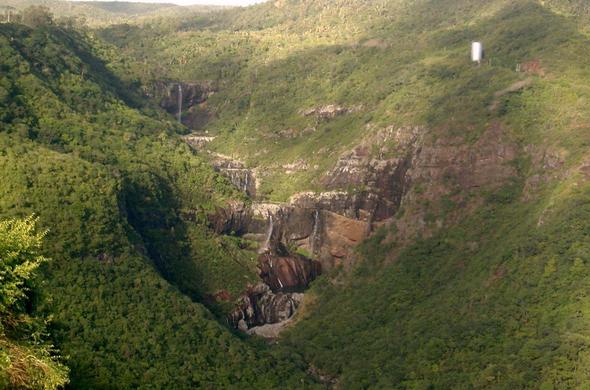 The Seven Waterfalls, or Les Sept Cascades, is also known as the Tamarin Falls. It has two routes, and the more popular one is challenging because it can be quite muddy and slippery, and requires climbing on the rocks lining the waterfalls. There are 7 waterfalls that are all visible from a certain viewpoint, but local guides usually agree that there are more than 7. The waterfalls are not generally very high, and it is possible to have a swim at the bottom of some of the falls. The hike can be completed in about 6 hours, and requires a guide.
Pieter Both
Pieter Both is an iconic mountain in Mauritius, and was named after the Governor-General during Dutch colonialism. It is the most challenging trek as it can get really slippery, and it is also physically demanding. Climbing gear is necessary, and a qualified guide is required for this hike, especially for those wanting to reach the very top. The total duration for the hike is about 3 hours.