Seychelles Activities | Things to do on your Seychelles Holiday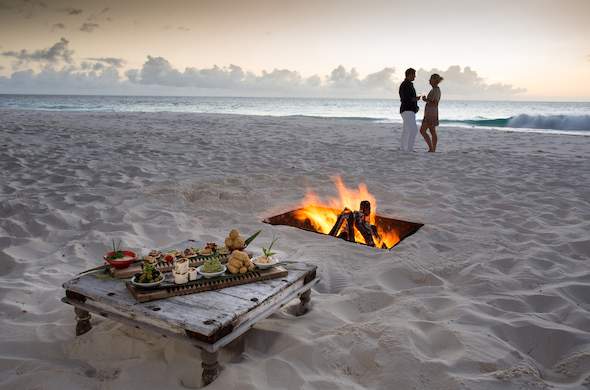 The instant your aircraft begins its descent, the variety of the Seychelles landscape charges up to greet you descent and promises a long and exciting list of things to do.
Beaches
Seychelles is esteemed for having the best beaches in the world, pure and uncrowded. These turquoise waters offer sublime opportunities for snorkeling, diving or pure relaxation. Seychelles is the perfect place for a great beach holiday on an island.
Island Hopping
There are exciting opportunities for island-hopping between the 16 islands that currently offer accommodation. These range from grand 5-star resorts to rustic island lodges and cosy beachside bungalows. You will discover gems like the legendary Vallée de Mai; home to the Coco-de-Mer. There also find gallant national monuments, national reserves and marine parks and beautiful Creole houses. Island hopping will also introduce you to the pleasures of glass-bottom boating.
Foods of Seychelles
The local cuisine manifests Indian, French, Chinese and African influences. The typical cooking involves seafood, lots of spices, rice and coconut. Popular Seychelles delicacies include Daube (a sweet stew), Rougaille (a tomato based sauce), Carii Coco (a coconut milk curry generally served with fish) and branchiate fresh fish stuffed with chillies. Meals are satisfyingly washed down with Seybrew, a local lager. You can also opt for a cup of the freshly brewed tea.
Attractions
Seychelles boasts of abundant natural beauty. With pristine sandy beaches and enchanting islands, this is an ideal place to relax and unwind.  A trip to Mahe, the largest island in the archipelago. The capital city Victoria offers visitors the perfect glimpse of the country's history and culture. Here you will discover the fascinating Natural History Museum together with the Seychelles National Museum of History and the St Anne National Marine Park.
Also not to be missed are the Black Pearl Farms and Vallée de Mai Reserve on the Praslin Island and the beautiful beaches in La Digue Islands. For marine lovers, Aldabra, the world's largest coral atoll is absolutely astonishing. Spot tiger sharks, manta rays and the most entertaining of all, the giant land tortoise.
Watersports and Island Activities
Mahé's vast multitude of powdery white sandy beaches afford unique views of neighbouring island amongst other things. Waterskiing, sailing and windsurfing are popular watersports in Seychelles and if you lucky enough to find yourself on this beautiful island grab every opportunity to experience the thrills of all its water adventures.
Diving is particularly enjoyable and allows you to get close to the fascinating marine life in the Island of Seychelles. And if you love snorkeling, St Anne Marine Park is the best place to pull out your wetsuit and goggles and explore the amazing underworld. Deep-sea fishing is also a favorite in Seychelles, with many opportunities in Denis.