The Seychelles | Country Profile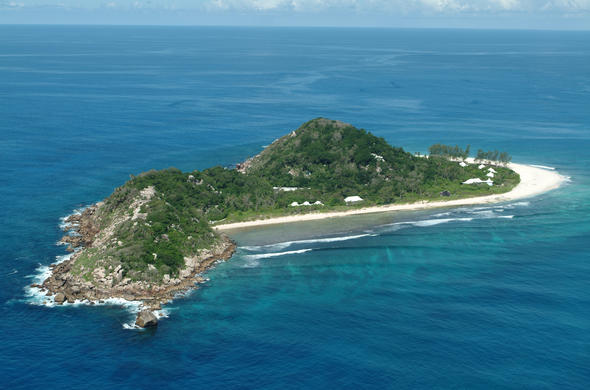 The Seychelles are commonly regarded as an exotic paradise lost amid the waters of the Indian Ocean. But few people fully appreciate the floral and faunal wealth of these fascinating islands.
Paradise Islands
Prosaically speaking, the Seychelles are a group of islands of either granitic or coraline origin, scattered across the north western Indian Ocean. In more poetic terms, they have been described as both 'Paradise' and the 'Garden of Eden'. Prosaic or poetic, however, the Seychelles are indeed blessed.
There are 115 of these islands, spread over some 400,000km2 (154,000 miles2)of ocean but covering a surface area of just 450km2 (174 miles2), including enclosed lagoons - a little over one percent of the national maritime zone. And they are indeed widely scattered. The two furthest islands, to the south west and the north east, are 1,245 kilometres (774 miles) apart. But just as they are widely scattered, so are they remarkably different in nature.
The granitic islands, those in the main or inner group, are a rather enigmatic remnant of the once super-continent of Gondwanaland, a few spikes of rock left to remind us that Africa and India were once joined. These islands range in size from Mahe, the capital island 27 kilometres (17 miles) long and a third of that at its widest, to islets consisting of a towel-sized beach, a single chunk of weathered granite, and a palm tree or two.
The bigger islands are indeed spikes of rock - Mahe rises to over 900 metres within about three kilometres of the beach - and they are a jumbled profusion of a staggering array of tropical vegetation, from delicate frangipani and orchids to carnivorous pitcher plants and towering pines and palms.
The more distant islands are coraline, low (no more than a few metres high), sandy shelves covered with scrubby plants and palms. Some are classic atolls, coral reefs encircling lagoons, while others, like Aldabra, have developed weird, eroded, moonlike forms. From a faunal point of view, the Seychelles are just as spectacular, but top marks must go to the bird life.
The avid 'twitcher' needs to come well armed with binoculars and bird books, for here is one of the rarest birds in the world, the Seychelles magpie robin, and other rarities like the Seychelles warbler; the black parrot (the national bird), found only in the Vallee de Mai in the exotic Coco de Mer palm (a World Heritage Site); the black paradise flycatcher; the white-throated rail; drongo and bush warbler (endemic to Aldabra, another World Heritage Site).
There are no fewer than 11 species and 17 sub-species of birds endemic to the islands, including the Seychelles scops owl, a bird so rare that no nest has ever been found. But if it's numbers rather than exclusivity that you want, then the Seychelles have some of the biggest and most famous sea bird colonies in the world: sooty terns, lesser noddies, great and lesser frigate birds, masked and brown boobies.
There are also red- and white-tailed tropic birds, Audobon's and wedge-tailed shearwaters, the fairy tern (the symbol of Air Seychelles), and a veritable host of others. And there are specific islands renowned for good birding, like the rather obvious Bird Island (Ile aux Vaches), the first port of call of many migrant species from Europe and Asia.
There is Cousin and Curieuse and Fregate, all special in their way, and then there is Aride. The only way to get to Aride is by little boat, but the effort is worth it, as this is the most important conservation area in the Seychelles and, from an ornithological point of view, one of the most important in the world.
A few hours spent on Aride will offer one clouds of sooty and roseate terns, white- and red-tailed tropic birds, noddies, shearwaters and frigate birds, swirling over the steep cliffs that look out over a seemingly endless Indian Ocean. Islands are by very definition surrounded by sea, and this is another good reason to linger on the Seychelles.
Apart from the Aldabra group, which is a World Heritage Site but virtually inaccessible to all but the extremely well-heeled with time on their hands, there are a number of internationally important marine parks around the islands.
The most accessible is the St Anne Marine National Park off Mahe, a splendid excursion for diving, snorkelling, swimming, sunning and some remarkably good al fresco lunching. If you are even vaguely aquaphobic, there is a semi-submersible craft in which one can sit in comfort as a kaleidoscope of reef fish swim past or gaze in at you in goggle-eyed wonder.
On the other side of Mahe are the Baie Ternay and the Port Launay Marine National Parks, and off Praslin the Curieuse Marine National Park and the Cousin Island Special Reserve. Apart from the natural beauty of the reefs themselves, the seas are filled with an extraordinary abundance of species, from tiny swimming jewels to the great whale shark, the largest fish in the ocean.
Back on land again, probably the most famous denizens of the Seychelles are the giant land tortoises. Aldabra, because of its isolation, has the biggest colony, perhaps 150,000 of them, but there are healthy populations elsewhere, including on the inner islands.
Mammals are not so common, apart from the Seychelles fruit bat, which unfortunately often ends up in the curry pot. But there is the tenrec, an ancient little creature which looks a little like a cross between a hairbrush and a rat, and which was introduced to the islands in the last century.
There are also geckos, lizards, skinks and chameleons, snakes and terrapins, and the smallest frog in the world, a little croaker that will fit happily on a finger nail. There are some special places, apart from the specific birding destinations like Aride, Cousin and Ile aux Vaches.
The Vallee de Mai National Park and World Heritage Site is one. The second-largest island in the inner group is Praslin, best known for the Vallee, but also for its beaches and hostelries. The Vallee is home to that extraordinary piece of flora, the Coco de Mer palm, and one of the world's rarest birds, the black parrot.
On Mahe, wander around one of the world's smallest capital cities, Victoria. Visit the now-ruined Mission, established as a school for the children of slaves. Walk and climb in the often mist-shrouded mountains, perhaps to find that diminutive frog, pitcher plants or maybe even a nest of that scops owl, which lives only in these mountains.
Hire a beach buggy or a bicycle and visit one of the seemingly endless number of splendid beaches, coves and secret places around the coast. Explore craft markets and art galleries. Go sailing or deep-sea fishing. And just how is paradise maintained? The econom of the Seychelles is based on eco-tourism.
The government realised long ago that if the idyllic natural environment of the islands became degraded in any way, the tourists would simply stop coming and the economy would collapse. The islands are run according to some of the most comprehensive, strictest and sensible environmental regulations in the world, and the handbook is the government's Environmental Management Plan, 1990-2000, 'Achieving Sustainable Development'.
In it, President Albert Rene writes: 'We live on small, remote islands with limited resources and vulnerable ecosystems, but that should not mean that we have to be islands unto ourselves. We therefore dedicate this Plan to all Seychellois, young and old, as well as to the world, since the management and protection of the environment is a global challenge and responsibility'.
The Seychelles really are as good as they sound. The natural environment is about as pristine as it gets, the holiday attractions range from sophisticated to quaint island style and the Seychellois themselves are charming. So, maybe General Gordon was right.
Seychelles Fact File
Getting there:
Air Seychelles has direct flights to London and other European destinations, Nairobi and Johannesburg, Dubai and Singapore. Getting about: Air Seychelles runs regular shuttle services to all the major islands.
There are boat ferry services between Mahe, Praslin and La Digue; many car hire companies on Mahe and Praslin; bicycle hire there and on other islands; good bus services on Mahe and Praslin; mini-bus and bullock cart services on La Digue; and metered taxis on Mahe and Praslin.
Accommodation:
There is a huge range, from rustic self-catering to five-star luxury.
Eating:
Seychellois cuisine is legendary and as varied as its ethnically mixed population, from spicy Creole to classic European.
Activities:
There are a number of top travel and tour agents on the islands, who can arrange anything from deep sea fishing or cruising to guided trails in the nature reserves.
Sports facilities:
Many, including the only golf course in a thousand miles.
When to go:
It's always summer, therefore hot and humid, but hottest in March/April (low 30os), coolest in July/August (mid 20os) and wettest December/January (but not seriously so).
Currency:
Seychelles Rupee (Sr) = 100 cents.
Language:
Creole, but English and French spoken widely.
Health:
Good health services; no malaria or other nasties.
Communications/Media:
Telephone/fax, cell phones, local TV, radio, daily newspapers.
Conference facilities:
600-seat Conference Centre in Victoria.
Security:
Very good. Just don't leave valuables in an open car or on the beach when you go swimming.
Gold Card:
A Seychelles Gold Card is to be introduced on January 1, 1999. Costing US$100, the Gold Card will be a one-off purchase, covering as many visits to the Seychelles as the holder wishes to make, the airport/port departure tax and entry to a wide range of National Parks, World Heritage Sites and other protected areas.
By David Holt-Biddle
Copyright © 2004 Travel Africa Magazine. All rights reserved. Reproduction in whole or in part without the permission of the author is prohibited.