Zanzibar Guide | Zanzibar Island Activities & Attractions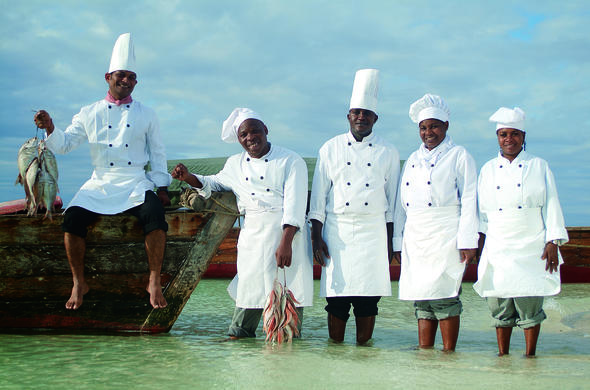 Travellers on holiday in Zanzibar will be spoilt for choice! This Indian Ocean African Island has so much to offer. Zanzibar activities include water sports, historic landmarks, beautiful beaches, a friendly society and much more.
Read about Zanzibar resorts and hotels accommodation options
General information
Visitors to this beautiful archipelago will fly into Zanzibar International Airport on Unguja Island; the airport is close to the capital city of Stone Town. Private transfers are usually arranged by the hotels or resorts, but alternately there are tour operator taxis and minibuses available.
Local buses called dala dalas travel all around the island and operate on designated routes, but with no fixed time schedule; visitors can hop on and off anywhere along the way. There is some car hire available and visitors will need international driver's permits for this service, motorbike hire is also possible - a crash helmet is recommended for safety.
The Tanzanian Shilling is not available internationally, and visitors are advised to arrive with a good mix of currency in traveller's cheques and cash for easy exchange at Bureau de Change or Banks (there are no ATM's currently in Zanzibar). Credit cards can be used at bigger establishments (Visa, MasterCard, JCB, American Express and Diners Club).
Zanzibar Beach Delights:
Zanzibar Island / Unguja has more than 25 beautiful, white, palm fringed beaches, the sea is warm and the atmosphere is peaceful. The island has remained relatively untamed, and the villagers along the coast continue with their way of life despite the increase in tourism. Visitors here enjoy the opportunity to retreat and relax with the sound of the sea.
In the north of the island, visitors can see traditional dhow building in Ras Nungwi, and in the west there is Mangapwani beach, along the east coast there are many long stretches of uncrowded beaches waiting to be explored namely, Matemwe, Pwani Mchangani Kiwengwa and Pongwe, also Uroa, Bwejuu and Jambiani. On the south coast is the Menai Bay Conservation Area, a protected breeding area for the endangered sea turtle.
There are a number of lovely islands (you can link here to Islands of Zanzibar) offshore which are great for day trips to snorkel, dive, swim or just relax - Prison Island (Changuu), Chapwani, Chumbe and Bawe are all near to Stone Town.
Zanzibar Diving delights:
Zanzibar is a diver's haven, exquisite coral reefs around Unguja and Pemba teem with marine life, visitors will enjoy the excellent visibility of between 20 to 60 metres and wonderful warm waters of around 27 degrees C (80 degrees F).
Visitors can learn to dive at various water sport centres through the international PADI system. More experienced divers will find exciting wall dives and can enjoy night and drift dives. There are fabulous coral gardens in deep waters where Barracuda, Kingfish and Tuna as well as Manta Rays and Sharks can be seen. Tropical fish are abundant in the shallower waters with great varieties of Indo-Pacific marine fauna.
Stone Town, Zanzibar:
This is a UNESCO World Heritage Site, but it is also a bustling town where the majority of Zanzibaris live. It is a fascinating place with many facets. The old city is carved from coralline rock, lovely to look at but difficult to preserve - hence the crumbling fašade. There are many twisting alleys and impressive carved and studded doors, around 560 doors at last count, the oldest dates back to AD 1694. The front door of a residence was a sign of status - an indication of wealth and social esteem.
Little has changed here in the last 200 years; visitors will find a vibrant culture, bustling markets, notable buildings and sights, mosques, cathedrals and Hindu Temples. Visitors can purchase a wide variety of wood carvings, jewellery, clothes, textiles, spices, art and antiques on various roads and bazaars. Walking around the city is fun and all roads wind back to a landmark or the waterfront. The residents are friendly and eager to point visitors in the right direction.
Visitors are asked to request permission first before taking photographs of the local people, and to dress modestly - for men and women, it is best to cover shoulders and knees whilst out and about. Sea shells and turtles are protected on the island and visitors are asked not to purchase related products or those from other protected flora and fauna from sellers.
Stone Town highlights:
The Old Dispensary - now fully restored
The market - shop for almost everything here
Livingstone's House - an explorer's base
Peace Memorial Museum - for Zanzibar history
Palace Museum - for the history of the Sultans
House of Wonders - impressive architecture and size
The Arab Fort - one of the oldest buildings
Kelele Square - from slave market to upmarket suburb
Hamamni Persian Baths - ruins of a glorious past
Spice Plantations
The incredible array of spices available includes cloves, nutmeg, cinnamon and pepper - it is no wonder that they drew the gaze of the Sultans of Oman and unfortunately the start of the slave trade. Visitors can take a tour of the plantations; a good tour has access to fresh spices and gives a comprehensive overview of their uses in cooking, cosmetics and in the treatment of ailments. There is an amazing treasure trove of varieties available, this is the best and cheapest place to buy spices and spice oils.
Jozani Forest
Visitors here can see a very rare creature - the Red Colobus Monkey which is endemic to Zanzibar, it's a delightful animal with immense character and roams freely in this area. The forest is located in the central east of Unguja / Zanzibar Island. Other animals found here are Syke's Monkeys, bush pigs and small buck and possibly a Zanzibar Leopard . Visitors will find a great nature trail and super staff in the reserve.
North Coast
This area is unspoilt with great beaches, coconut trees and mangroves, the coral reefs are very good for snorkelling and diving. Ras Nungwi is the dhow building capital of the island, where traditional craftsmen can be seen at work. There is also a turtle sanctuary for the care of injured turtles and other marine animals which are released back into the ocean once recovered.
Kizimkazi
This fishing village is located on the southern point of the island where visitors can take a short boat trip out to view the Bottle-Nose Dolphins that frequent this area and possibly swim close to these amazing creatures. There is also a 12th century mosque in the village, the oldest in East Africa.
Ruins
The island has a number of ruins, some are well signposted, others will require a guide, and they include:
Bi Khole Ruins
Dunga Palace of the Mwinyi Mkuu
Fukuchani Ruins
Kidichi Persian Baths
Kizimbani Baths
Mangapwani Cave and Cave Chambers
Maruhubi Palace Ruins
Mtoni Palace Ruins
Tumbatu Ruins