Zanzibar Travel Guide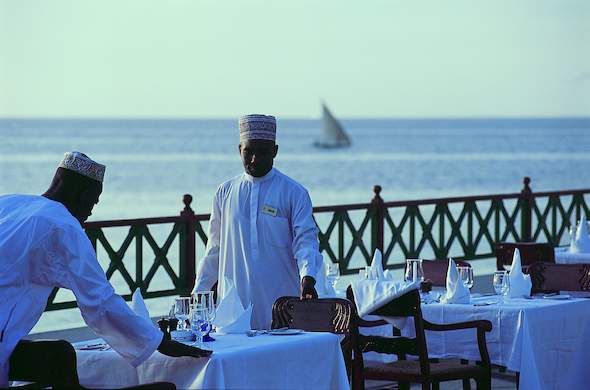 Read on for your detailed Zanzibar travel guide. Useful information on the people of Zanzibar, history, foods and helpful travel tips for travellers going on a Zanzibar holiday.
About Zanzibar
Zanzibar consists of an archipelago of islands made up of Unguja (Zanzibar Island) and Pemba as well as around 50 smaller islands surrounding them. The name Zanzibar is derived from Arabic words meaning "Land of the Blacks". This area has a long and fascinating history, beautiful beaches and exotic spice trees growing in abundance. The islands main economic activities are fishing and agriculture. Cloves, coconut products and spices are exported and tourism is now becoming a major income provider.
The capital of Zanzibar on Unguja Island is Stone Town - a UNESCO World Heritage Site. This once glorious city has eroded away due to the use of coralline rock; it's beautiful to look at but requires intensive repair and upkeep now to restore the city to its former magnificence. Despite this, it is a most remarkable place, the vast majority of the population of Zanzibar live there; it is a living and working city as well as a monument.
The northern reaches of Unguja are fertile, and the east coast has many Zanzibar holiday destinations, coral rag and wonderful beaches - visitors can have an entire stretch of palm fringed sand all to themselves at certain times of the year. Pemba Island is smaller and far less populated; it is a more rural experience but has fantastic hilly scenery and beaches. Zanzibar as a whole is blessed with many excellent scuba diving sites and fishing opportunities in the Pemba Chanel.
The People of Zanzibar
Zanzibaris are hospitable and friendly! With origins dating back to the first century AD, they are an interesting and diverse mix of people, the biggest majority is of Bantu descent and there are Arab influences everywhere. The Tanzanian Government in the early 1960's introduced a policy of relocating and separating tribes, today Zanzibaris are less tribal than African countries because of this action.
The local people's island of origin now determines which tribe they belong to. Those from Unguja are the Waunguja, the Wapemba come from Pemba and the Watumbatu come from Tumbato Island. July is festival month in Zanzibar - a great opportunity to see the local people and their culture.
Zanzibar's most famous resident was the inimitable Freddie Mercury - lead singer of the super rock band Queen. Freddie, born Farouk Bulsara in 1946, had an interesting lineage descendent from the Parsee of India (Zoroastrian religion), originally from Iran. The Bulsara family moved to Zanzibar before Freddie was born, staying on until 1964, during this period Freddie was sent to boarding school in India at the age of 7. Freddie's roots can be heard when he uses the word "Bismillah!" in the lyrics of Bohemian Rhapsody.
Religion and Languages of Zanzibar
The most common religion in Zanzibar is Muslim and the laws of Islam, which were introduced by Arab settlers with a following of around 95% of the population, followed by Hinduism and Christianity.
Zanzibaris speak a pure form of Swahili the official language of Zanzibar, which originally came from Kiswahili - a complex mix of languages that came about through Zanzibar Bantu, Arab, Omani, and Persian intermarriages. Most Zanzibaris speak English and many have a basic knowledge of Arabic and Italian.
Zanzibar Climate
The green season and long rains occur from March to May. The cool dry season is from June to October. Short rains fall from October to November. The hot dry season is from December to March. The average daily temperature is about 26 degrees C / 80 degrees F. There is an average of 7 to 8 hours of sunshine a day.
Zanzibar is close to the equator and has ideal holiday weather during most of the year. Summer heat, which peaks in December is cooled by pleasant sea breezes in particular on the north and east coasts. The coolest month is generally June.
Zanzibar Foods
Ahhhh....the Spice Islands! The local Zanzibar cuisine is a fusion of wonderful flavours and aromas where visitors can experience African, Arab, Indian, Goan and Chinese influenced traditional food.
Seafood is freshly caught and visitors will find spicy Zanzibar specialities are created around the catch of the day which could be Lobster, Kingfish, Prawns, Crabs, Octopus and Squid. Coconut is also a popular ingredient in many dishes.
Celebrations, Music and Events in Zanzibar
Taarab:
This is a local form of music with a mix of sounds and styles from Africa, India and Arabia. Audience participation is part of the event. Show times and venues are broadcast on the radio, but visitors can ask at hotels and restaurants for information.
Ngoma:
This is a traditional African dance with singing and is set to fast rhythmic drumming. Visitors will need to ask at hotels and restaurants for information on public shows - some restaurants offer Ngoma on its own or combined with Taarab (these shows are very long so be prepared).
Eid-al-Fitr Festival:
This festival occurs at the end of Ramadan which happens at a different time each year and so a local Islamic calendar will need to be consulted for the dates.
Sauti Za Busara Swahili Music and Cultural Festival:
This festival showcases the diversity and wealth of Swahili music and takes place during the first 2 weeks of February in Stone Town.
Zanzibar International Film Festival:
This forms part of the Festival of the Dhow in East Africa and occurs in July annually in Stone Town.
Zanzibar Music Festival:
Featuring artists and shows from around the world, this festival happens in July annually and runs for about a week in Stone Town.
Dhow Racing:
Taking place in the Stone Town harbour, the Dhow races occur in July annually. Visitors should enquire locally for information on dates and the best viewing spots.
Mwaka Kogwa:
This celebration lasts 4 days, usually from around the 3rd week of July, taking place in a small village called Makunduchi located in the south of Unguja / Zanzibar Island.
International Triathlon and Marathon:
These popular events draw participants from Africa, Asia and Europe to Unguja / Zanzibar Island. Both races cover Olympic distances and take place in wonderful locations in early November.
Public Holidays
1 Jan: New Year's Day
1 May: Worker's Day
12 Jan: Zanzibar Revolution Day
26 Apr: Union Day
5 Feb: CCM Foundation Day
7 Jul: Peasant's Day
9 Dec: Tanganyika Independence Day
Other holidays that vary from year to year include the Muslim Festivals of Ramadan and the Prophet's Birthday, and Good Friday and Easter Monday from the Christian calendar.
Tips for Travellers in Zanzibar
With the rise in tourism to Zanzibar, visitors need to be aware they are in a culture that may differ greatly from their own, the people are welcoming and friendly and care should be taken not to offend the traditional values of the local people or harm the environment.
Clothing:
Zanzibar is close to the Equator and it never gets really cold, so light clothing is advisable - however, visitors should dress modestly when not on the beach. Women in particular are advised not to expose too much leg or wear skimpy tops and topless sunbathing is a no-no.
Out and about:
Non-Muslims are asked not to enter any of the mosques in Zanzibar. When taking photographs of the local people it is a courtesy to ask their permission first. Visitors with children are also asked to be discreet with expensive toys in front of local children who in all likelihood come from quite a different background.
The environment:
Visitors are asked not to pick up any shells whilst snorkelling, or purchase any from those selling them as this encourages the destruction of entire coral reefs, a problem now evident in other popular areas along the East African coast.
Zanzibar Accommodation
These Zanzibar accommodation options are only a few of the fantastic Zanzibar Hotels and Resorts. Ask your Siyabona Africa Consultant for more options to suit your needs.