Zanzibar Guide | Pemba Island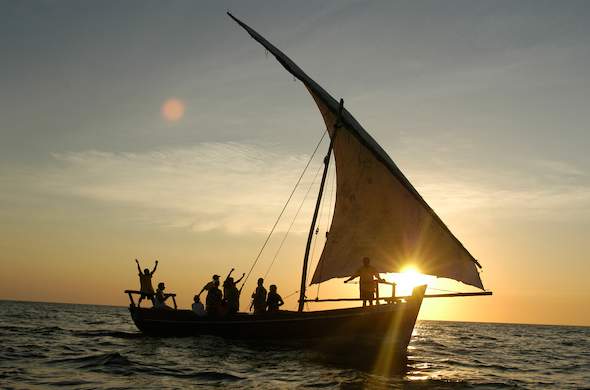 Pemba Island in Zanzibar on the Tanzanian mainland is a beautiful place with wonderful beaches and historical sites. The coral reef that surrounds the island offers natural protection for a stunning variety of marine life; it is a delight for snorkelers and offers world-class dive sites.
About Pemba Island, Zanzibar
This lush and hilly isle lies east of Tanga on the Tanzanian mainland. Pemba is 80km (50 miles) north of
Zanzibar Island / Unguja
and smaller in size but with more natural forests and plantations. Pemba is a bigger producer of cloves and has a wealth of eco-systems, it has thus far, hardly been exposed to tourism and so has an authentic and unspoiled feel to it.
The mangrove coastline opens up in places to reveal gorgeous stretches of shoreline, there are also small islands dotted about with
stunning beaches and birdlife
.
Pemba has been attractive to numerous seafarers and traders of old, with many rulers coming and going over the years including the Sultan of Muscat (Oman). Arab dhows would carry cloves, textiles, silver and wood from Pemba on trade winds to other lands. Dhows are still seen today, plying the route from
Wete to Shimoni in Kenya
and also to northern Mozambique
The people of Pemba are friendly and eager to talk to visitors, who will find a rich history and sense of tradition. Pemba Island is also the centre in East Africa where people come to learn the
ancient arts of traditional healing
and witchcraft. Followers journey from great distances in Africa to receive healing or train here.
Pemba Island Accommodation
>Apart from some luxury resorts,
Pemba Island accommodation
, facilities and amenities are modest as infrastructure is still to be developed. Visitors can get around by resort transfer, private car, some taxis and dala dalas and the local bus service.
A dala dala is a form of African taxi which follows a designated route; a free wheeling shared transport without particular hop on and off stops or a specific time schedule.
The island is quite unexplored and rural, rather like an undiscovered gem - something resort owners now established there have known all along. For those looking for
adventure and fabulous beaches
and diving, this is the place.
Speak to your
Siyabona Africa Consultant
about Pemba Zanzibar accommodation options.
Towns of Pemba
Chake Chake:
This town is the administrative capital of the island and is located on the western shore just below mid-way. It's the biggest of the towns and all the buses and dala dalas travel through here, there is a dhow port and a fish market on the waterside.
Mkoani:
This is the smallest town of the 3 main towns but it has the most important port, with sea vessels arriving from Zanzibar Island / Unguja and the mainland. It is located on the south western shore of Pemba.
Wete:
This town is quieter than Chake Chake and situated on the north western shore of the island. It is a good base for exploring the northern section of Pemba. The port is used for clove exportation.
Getting to Pemba
Air travel:
There are regular flights to Pemba from Zanzibar Island / Unguja, Dar es Salaam and Tanga on the mainland.
Sea Travel:
Mkoani is actually the main port and very busy with the boat traffic from: Zanzibar Island / Unguja (taking between 3 - 6 hours). Dar es Salaam (a long journey going via Zanzibar Island / Unguja). Dhow travel is sometimes available from Tanga on the mainland only.
Attractions and Activities
>Pemba is blessed with a variety of attractions, there are islands to explore, historical sites, fabulous beaches and forests to discover.
Scuba diving is spectacular. There are deep drop-offs and pristine shallow reefs with clear blue waters. Divers will find both hard and soft corals and wonderful
marine life including Mantas and Turtles
, pelagic marine life and schools of coral fish.
The Pemba Channel is renowned as one of the best places for fishing, in particular Marlin, but there are many other species to be found here.
Misali Island
>Captain Kidd is said to have made this island a hideout in the 17th century! It is just off the coast near Chake Chake in a marine conservation area and has wonderful
beaches, diving, snorkelling
and walking trails through the forests. Swimming and water activities are unaffected by the tides here which is a real bonus. Visitors can hire a boat from Chake Chake or Mkoani to reach Misali.
Shamiani Island
This isolated island is just off Mkoani and has good diving and snorkelling sites. It is also known as Kiweni Island. The island is a nesting site for a colony of sea
turtles and a wide variety of birds
can be seen. To get to Shamiani, visitors will need to arrange private transport from Chake Chake to the little village of Kengeja and then sail across to the island.
Mtambwe Mkuu
Located just south of Wete, the join between both islands is visible at low tide. A dhow or canoe is needed to get across to Mtambwe from Wete harbour where uncommon pre-colonial minted silver coins have been found.
Pujini Ruins
These ruins are located south east of Chake Chake, about 10km (6 miles) from town. The ramparts and ditches of the palace can be seen and inside archaeologists have discovered the remains of 3 other buildings, an underground shrine and plaster bas reliefs on the walls.
This attraction has a fascinating history going back to the 15th century during the reign of the reviled ruler Mohammed bin Abdul Rahman. Known as the
"Milker of Men", Rahman
is remembered for his cruelty and punishing hard labour practices. There is another legend of a previous ruler who had two wives living in separate areas of the palace; they knew nothing of each other.
Ngezi Forest
Ngezi is the last part of a huge indigenous forest that used to cover most of Pemba; it's located in the most northern point of the island. The Pemba Flying Fox, a type of bat endemic to the island lives here. Ngezi is a protected area with an information office and has a number of attractions: a nature trail, stunning
Vumawinbi beach in the east
, Verani beach in the west and an interesting cave in the north called Pango ya Watoro.
Ras Mkumbuu Ruins
The ruins of an ancient and reportedly powerful Swahili settlement dating back to the 11th century can be found north-west of Chake Chake on a peninsula. Visitors can see the remnants of a large mosque and "pillar tombs", the most enjoyable way to see the ruins is by hired boat or on an arranged tour.
Ras Kiuyu Forest Reserve
For an interesting day trip from Wete, visitors can see this forest at the tip of the Kiuyu Peninsula. It is smaller than Ngezi but nonetheless there is plenty of wildlife and rich vegetation to be seen.
Diving
Pemba has many exciting dive sites around the island just waiting to be explored, here are some examples.
Emerald Reef/Ras Miungani - has cooler currents for different kinds of coral and plants.
Fundu Reef - good visibility, many types of fish and corals, good for a first dive.
Kokota Reef - great for night dives due to shallow and calm conditions.
Manta Point - one of the best sites, world-wide, to see Manta Rays and other marine life.
Misali Island - incredible visibility! This is a wall dotted with small caves and ridges.
Njao Gap - great wall-diving and corals with a profusion of Titan Triggerfish found here.
S S Paraportiani - a wreck dive, the ship is located on the bed of a shallow lagoon.
Fishing
The Pemba Channel is spectacular for fishing and a great variety of game fish can be found here including:
Striped Marlin
Black Marlin
Blue Marlin
Broadbill
Sailfish
Yellowfin Tuna
Tiger Shark
Mako Shark