Madagascar Beaches | Madagascar Travel Guide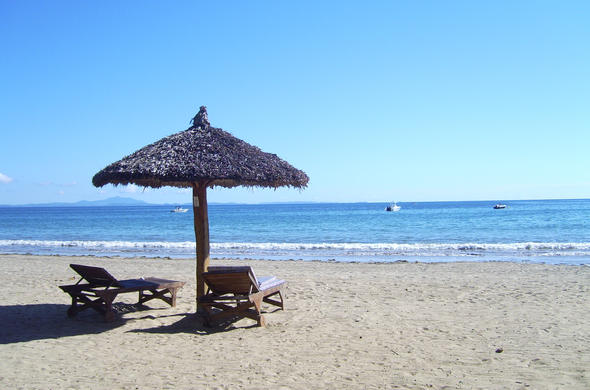 Madagascar Beaches
A Madagascar island holiday is ideal for intrepid travellers looking for something different. What they will also find here is a stunning selection of beautiful beaches and unspoiled coral reefs which attract many diving and snorkelling enthusiasts.
The most popular Madagascar beaches are concentrated in the northern part of the island with other interesting and unusual areas in the southern and south western regions. Here is a Madagascar travel guide with a brief overview of each area:
Nosy Be Island
This Indian Ocean Island and other smaller tropical islands are located in the north west of Madagascar. Nosy Be has eleven extinct volcanoes and a delightful sunny climate all year round. The air is heavy with the scent of Ylang Ylang and other exotic aromas. Visitors love the warm waters, colourful vegetation and gorgeous beaches most of the year although the rains are at their heaviest in February.
Read more about Nosy Be Island accommodation.
Attractions:
Scuba diving, snorkelling, island hopping
Andilana beach in the north of Nosy Be
Nosy Tanikely Island, a marine reserve with lovely beach
Nosy Komba Island, for Lemurs and the beach near Ampangorinana
Nosy Iranja Island, beaches (also known as turtles island)
Mitsio Isles, beaches and islands
Tsarabanjina Island, ultimate beach honeymoon destination
Ile Ste-Marie (Sainte Marie Island)
Once a pirate haven, this lovely island has secluded white sand beaches, lush vegetation and many palm fringed coves for a romantic Madagascar honeymoon. Visitors can swim and snorkel from the coves and also scuba dive in the lagoon. This is a year round destination except for February which is cyclone season.
Attractions:
Scuba diving and snorkelling
Beautiful beach on Ile Aux Nattes, an offshore islet
Orchids are at their peak in September
Whale watching from July to October
Historic sites including an old Catholic Church
Ifaty and Nosy Ve
Situated on the south west coast of Madagascar, Ifaty has wonderful long beaches, coral reefs and a relaxing island vibe. Visitors can climb the dunes and explore the small fishing villages. This is a gateway for Madagascar tours to the Spiny Desert.
Attractions:
Scuba diving and snorkelling, PADI centre
Surfing and sailing
Magnificent sunsets
Whale watching June to August
St Augustin Bay, for lemurs and the Sarondrano Cave
Nosy Ve Islet for bird life, deserted beaches, marine reserve
Mahajanga
This is a popular Madagascar vacation spot for locals and international visitors with lots of beaches and a relaxed social atmosphere. The town is located in the north west of Madagascar and has a number of grand old buildings, although the local people are impoverished they are very friendly and welcoming. Enjoy a day excursion to Ankarafantsika Forest Station for Lemurs, birdlife and tortoises.
Attractions:
Wonderful sunsets from the palm lined beaches
Bombetoka Bay
Amborovy Beach
Grottos of Androhibe
Watersports
Morondava
Gateway for Madagascar tours to the mysterious west coast, Morondava has a fabulous wide sandy beach from which visitors can swim in the warm waters of the Mozambique Channel. This Madagascar town is located at the mouth of the Morondava River.
Attractions:
Wide sandy beaches and sunsets
Sailing and fishing
West Coast wonders, baobab valley, Kirindy forest, river rafting