Madagascar Attractions | Madagascar Travel Guide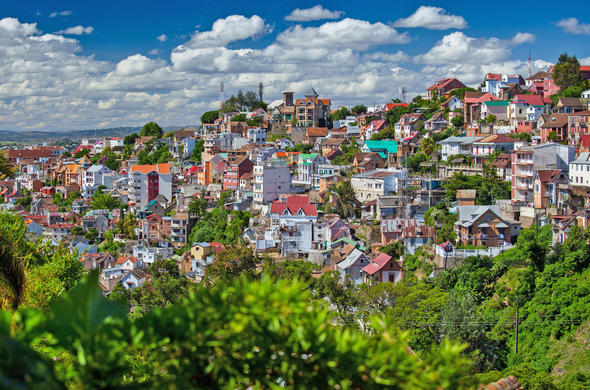 Madagascar Places Of Interest
This totally unique eco-tourism destination is the 4th largest island in the world and the largest Indian Ocean Island. Madagascar is rich in cultural diversity, natural wonders and unusual animal and plant life.
This undiscovered Indian Ocean Island has diverse landscapes to explore. The central highlands stand between the west which is drier, and the east which is wet, the south is semi arid. Magnificent rainforest and a tropical climate can be found in the north-east as well as pristine coral reefs. Here is a Madagascar travel guide for ideas on destinations:
Antananrivo (the Capital)
Often referred to as Tana, this bustling Madagascar capital city has a decidedly French atmosphere and is located at the centre of the country in the highlands. Tana is built on a hillside with various levels and surrounded by more hills and rice paddy fields. The city has many cobbled streets and winding alleyways.
There are a number of markets where almost anything can be bought. Zoma Market is the second largest in the world and is at its colourful best on Fridays. Excellent handcrafts, masses of fruit, fresh flowers and many other items can be bought. Care should be taken with personal belongings while moving through the throng and haggling.
Cafes and restaurants are plentiful - visitors can rest a while and take in the architecture of the city. Antananarivo accommodation includes hotels and guest houses and there is an International Airport.
Highlights:
Historic Palaces and buildings
Markets
Lake Anosy
Tsimbazaza Zoological and Botanical Garden
Lemur Park, shop and restaurant, 30 mins from town
Ambohimanga, 30 mins from town
Areas around Antananarivo:
Mantasoa
Lake, picnics, Angavokely Mountain (views and caves) Ampefy
Volcanic area with waterfalls and geysers Antsirabe
Crater lakes, historic tombs Ambohidratrimo
Palace and Royal tombs Antsahadinta
Forest and rare essences, museum, tombs
Andasibe (3 hours from Antananarivo)
This is the site of 2 Madagascar National Parks, PERINET and Mantadia. The animals are at their most active first thing in the morning.
Highlights
Premier wildlife area with huge variety
Rainforest and orchids, lily covered lakes
Lemurs (indri), chameleons, birds, blue boa constrictor
Hiking, culture and hand craft.
Northern Madagascar
This lush region is dominated by 2 mountains and high altitude Madagascar rainforest. Visitors can visit various areas on the western and eastern shores although the monsoon season occurs between December and March.
Nosy Be Island
This is a popular destination for a Madagascar holiday on the beach; it is a 1 hour flight from the capital. There are numerous Nosy Be holiday resorts and others on the surrounding Indian Ocean Islands. This is a beautiful area with wonderful beaches, pristine coral reefs, warm clear water and the smell of exotic spices and aromas in the air. The main town is Hell-Ville. Nosy Be accommodation includes hotels, villas, bed and breakfasts.
Highlights:
Scuba diving, snorkelling, watersports
Island hopping, yacht charters
Fabulous beaches, forests, waterfalls
Oceanographic museum, Lokobe Reserve
Antsiranana (Diego Suarez)
A seaport located on the second largest bay in the world. This Madagascar town has wonderful views of the bay with plentiful accommodation and a vibrant multi-cultural society. Visitors can take tea in an Arab tea house, try an Italian bakery / shop or relax at a French Café. The city is charmingly shabby but surrounded by fabulous scenery, rainforest, waterfalls and lakes. Accommodation varies from hotels to lodges and villas. Ramena Beach is an attractive coconut tree lined beach about 30 minutes from the city. Ankarana National Park is spectacular with Tsingy, underground lakes and many caves (explore with a guide due to crocodiles).
Highlights:
Old French colonial city buildings and atmosphere
WW2 artillery and military graves
Sugar Loaf, much photographed island hill
Fantastic limestone formations (Red Tsingy)
Amber Mountain, extinct volcano, fantastic animals and plants
Montagne d'Ambre and Ankarana National Parks
Ile Ste-Marie (Sainte Marie Island)
Located off the north-east coast of Madagascar, this Indian Ocean Island (see Madagascar Beaches article) has gorgeous white beaches, secret coves, lagoons and pristine coral reefs. It is a great honeymoon destination. This Garden of Eden was popular with pirates in the past and visitors can explore hidden caves and pirate graves. Island accommodation includes hotels and beach chalets. October to December is great for diving around wreck sites.
Highlights:
Ideal honeymoon destination
Diving and snorkelling
Historical buildings and tours
Wonderful scenery, orchids in September
Whale watching July to October
Mahajanga
Located on the north-west coast, this Madagascar town has a long tree lined promenade and it's a popular local holiday spot (see Madagascar Beaches article). Visitors can enjoy the beautiful sunsets on the beach and purchase some of the famous local handcrafts. The town has a dilapidated air but the inhabitants are always friendly. There is a variety of hotels and simple accommodation.
Highlights:
Beach promenade
Hiking trails and lakes
Ampijoroa Forestry Reserve
Ankarafantsika National Park, beautiful wildlife
Amborovy Beach, Androhibe grottos, Bombetoka Bay
Eastern Madagascar
Toamasina is the regional capital on the east coast of Madagascar Island and a busy seaport. It is about an 8 hour drive from Antananarivo. Visitors will find a variety of markets.
Highlights:
Ivolina Zoological Park and Botanical Garden
Vatomandry beach (no swimming due to sharks)
The old Hova Fort (Foulpointe)
Mananjary beach (no swimming due to sharks)
Fort Dauphin (Taolanaro)
This Madagascar town has a strong French history with the remains of a 17th century fort. This area is known for its seafood and orchids as well as some carnivorous plants and unusual insects. Two hours from the town is Berenty, a fabulous forest of spiny and thorny covered trees and Baobab trees.
Highlights:
Nahampoana Natural Reserve, waterfall and natural pool
Excursions to Lokora Beach
Excursions to Berenty (Sifaka lemurs and 5 other species)
Mandeha Reserve and Andohaela Reserve
Bay of Galions
South And West Madagascar
The south of Madagascar is arid with remarkable plant life able to survive here. The main town on the highlands is Fianarantsoa, a centre for the growing of rice and wine. Ranomafana National Park has many mammal species, among them 12 species of lemur, fabulous plants including orchids and giant bamboos. This Park is inaccessible between July and October due to heavy rain and muddy conditions. Isola National Park is extremely scenic and also has many types of lemur - there are a number of walks and natural swimming pools.
Highlights:
Amabalavao for paper and silk products
Ambositra and Zafimaniry for marquetry products
Isalo National Park and Ranomafana National Park
Ifaty and Nosy Ve
Visitors here can enjoy a relaxed Indian Ocean Island vibe and long beautiful beaches (see Madagascar Beaches article). The capital of this region is Toliara. This area is also a popular gateway for the Spiny Desert. Ifaty accommodation includes hotels and beach bungalows.
Highlights:
Diving and snorkelling, fishing, sailing and surfing
St Augustin Bay (Sarodrano Cave and ringtail lemurs)
Nosy Ve Marine Reserve beach and coral reefs
Spiny Desert Forest and amazing wildlife and birds
Whale watching June to August
Amdranovory burial tombs
Tsimanapetsotsa Natural Park
Morondava
This Madagascar town is the gateway to west coast attractions. Visitors can see long sandy shores and enjoy wonderful sunsets at this island getaway. (see Madagascar Beaches article) Beach accommodation can be found in hotels and beach bungalows.
Highlights:
Sailing and fishing
Alley of baobabs
Tsingy (sandstone formations)
Kirindy Forest
Burial tombs
River rafting and canoeing