Island Styling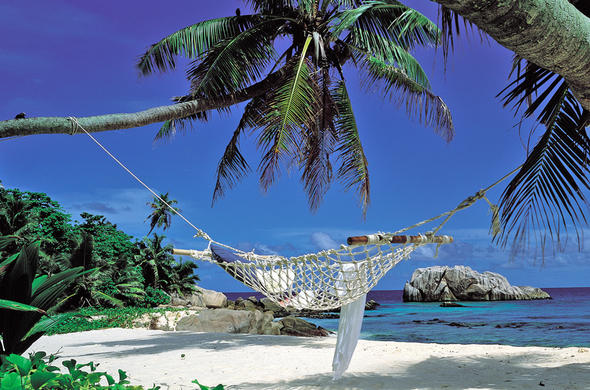 Follow the trade winds into the heart of the Indian ocean and you might discover a mythical micro-continent known to early explorers as the land of Lemuria. Jacques Marais sailed west and found the Seychelles.
Saturday, October 13th ...
Another bleary-eyed 06h00 wake-up call. Lugging cases of photographic equipment and baggage to the airport. Taxi dodging in the traffic. And then into a slow-moving queue to fidget as surly men in uniform scrutinise your passport. I hate flying.
Boarding Air Seychelles flight MH060 after three hours of airport limbo. Smiling stewardesses and friendly faces. Spicy Creole food bursting with island flair. Lara Croft in all her glory on the in-flight entertainment channel. Occasional glimpse of Indian ocean islands languishing far below. Come to think of it, flying isn't so bad after all.
Sunday, October 14th ...
In the process of getting my sea legs aboard the luxurious Walkabout Voyage 500 catamaran, one of a fleet of sleek charter vessels. Crew Blackie and Madeleine brief me as we cruise along the Mahé coastline in a twelve knot breeze, revelling in the luxury of a live-aboard cruise. Trying not to look nautically challenged, but mistakenly identify a flying fish as a small, silvery seabird (a temporary setback on the cool scale). At the Baie Ternay Marine National Park we drop anchor and I slip into the big blue to drift with inquisitive batfish and spotted eagle rays.
Back in the sun, I swop my snorkel for the on-board sea kayak, blading along the island shore past secluded beaches and granite sentinels. Beyond a sandy strip I discover a Temple of Doom stream meandering inland between towering rocks and rustling Latanier palms. Here giant spiders rule in a wide, webbed world where the emerald shadows ring with the shrieks of flying foxes. Unable to penetrate deep into this arachnid kingdom, I retrace my route and splash through playful waves to where the yacht and a gourmet meal await. We moor off Beau Vallon to celebrate the cocktail hour, sipping Margaritas while a shooting star arcs across the velour sky.
Monday, October 15th ...
A slow float from Mahé to La Digue, the third largest of the granitic islands. Plain sailing for most of the way, except when a big eye tuna hooks into the trawling rig with a vengeance, nearly wrenching my shoulders from their sockets. La Digue itself is a world apart where wooden ox carts creak through lazy avenues shaded by ancient casuarina trees. Tourists on bright bicycles cruise unhurriedly between beaches and luxury resorts and art galleries while I share a Sprite with a Rastafarian in the shade of a swaying palm. We sail on, hugging the granite curves of La Digue en route to Felicité, a privately owned island where we ride the tides while the sun slowly slips towards the waterline.
Tuesday, October 16th ...
After a languorous breakfast, we set course for the undulating hills of Praslin. Also known as the Green Island, it is home to the primeval coco de mer palm (lodoicea maldivica), a striking tree dating back to the days when primordial forests held sway on the plains of Gondwanaland. The Vallée de Mai is one of only two global habitats where these dinosaur palms occur in their natural state, and to walk here is to step onto the set of Jurassic Park. A network of trails wind through this World Heritage site and I soon lose myself in a world where tenrecs scuttle and green geckos stand guard on caitkin flowers.
To cool off, we snorkel along the fluted, granite bluffs of St Pierre island, descending into an underwater world where white-tipped shark, barracuda and bonefish swank through the blue, but it is a close encounter with a hawksbill turtle that I will remember for the rest of my life. Blackie notices it feeding on the seabed, busily snapping off pieces of coral with its razor sharp bill. I need no second invitation and plunge down eight, maybe ten, metres with camera in hand to get the right shot. For a while the hawksbill disappears, but then returns to push its extraterrestrial little face up against my mask. For what seems like aeons I stare into an inquisitive yellow eye, softly stroking its leathery flippers while trying to decipher its deep turtle thoughts.
Wednesday, October 17th ...
Aride, driest of the central islands, bills itself as "one of the wildlife spectacles of the Indian ocean" and a guided walk along the plunging cliffs confirms this claim. A veritable ornithological treasure trove, it is home to a clamorous selection of winged creatures. White- and red-tailed tropic birds, Audubon's and wedge-tailed shearwaters, fairy, roseate and sooty terns, noddys, greater frigate birds and plovers wheel and skitter through the skies in a constant flutter of aerial activity. Land birds include the critically endangered Seychelles magpie robin, the distinctive blue pigeon with its wattled, red face, the Seychelles brush warbler and Madagascar red fody.
Thursday, October 18th ...
Opting for a touch of terra firma, we sail from the spectacular cove of Anse Lazio to Curieuse, a small island situated approximately one kilometre off the Praslin shore. A former leper colony and once a haunt for gargantuan crocodiles, it is now home to a population of giant land tortoises. Originally from the coral island of Aldabra, these prehistoric creatures set about their grazing in a slow and deliberate way, sharing the rocky outcrops and mangrove swamps with a selection of burly land crabs and seabirds.
Friday, October 19th ...
Back on Mahé, I head for the Morne Seychellois National Park along a tarmac switchback snaking through organic tea plantations, aromatic fields of citronella and indigenous rainforest. My intention is to summit Morne Blanc, a peak rising to approximately 700m alongside Morne Seychellois, the highest point on the Seychelles. Within the pristine mist forests the tropical vegetation runs riot - tree ferns and palms claw skywards, bearded moss and lianas trail from low branches and orchids and epiphytes cling to gigantic limbs.
Step high along the calf-numbing climb until you burst forth from this realm of verdant shadow and occasional sunbeams to gaze upon a panorama that is truly breathtaking. Far below, the billowing green of forest crowns tumble down to where island beaches sparkle. Black-brown cliffs lurch vertiginously skywards, staggering away through the melee of tropical greenery to topple into the turquoise ocean shimmer. All around me, white-tailed tropicbirds swirl like delicate Oriental kites set free on the breeze and for a few moments I believe I feel like the first man to have set foot on this little sliver of paradise.
FACT BLOCK 1 - Seychelles Central Islands
Main city: Victoria (the capital, situated on the island Mahé)
Visa: None required for South African citizens
Languages: Creole, but English and French is widely spoken
Currency: Seychelles rupee (Sr5.2 = US$1)
Best time of Year: Dry season stretches from April to October
Don't Forget: Sunblock, snorkelling gear, beach hat
Remember: Explore beyond the beaches, where mountains and mist forests will enchant you
Don't miss: Snorkelling at St Pierre Island; a climb to the top of Morne Blanc
Public Transport: Private and water taxis; a good bus service
Getting there: Return flights from SA with Air Seychelles fly once a week
Ticket Price: From R6 500 per person (Y-clas