Into the Blue | Indian Ocean Islands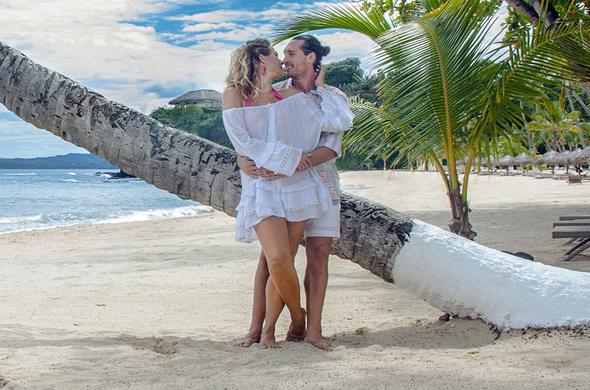 Madagascar, with its mix of poverty and spirituality, sometimes offers a dark view of life at the very edge of the developed world.
Half-naked men, women and children sprawled in the mud. Their faces, hair, and skin were all dyed the same milkshake-brown, slick with water, as they pushed handfuls of mud through crude round sieves. In the tall gum trees overhanging the riverbed, lemurs with bright round eyes watched the activity below.
The
villagers were panning for gold,
tiny flecks of unrefined ore, which they would sell to businessmen who made the long road journey to the Darain Forest in the north-eastern corner of Madagascar. Although it was only 30km from the town of Vohémar, it took
five hours of driving along heavily potholed roads
to reach the village - a collection of palm-thatched huts which is home to about forty people. Along the way I saw other small settlements where women and children sat sorting and drying cloves and peppers on rush mats in the sun.At one bad patch in the road we met an
enormous lorry with a broken axle
blocking the traffic in both directions as a group of men tried to repair it with rope and pieces of metal. I asked one of them how long it would take to fix. "Two days," he said with a shrug. "Maybe three." The women and children travelling in the truck were already
setting up a makeshift camp in the long grass
nearby, unable to do anything except wait for the vehicle to be repaired.
Eight or nine other lorries,
too big to squeeze past the obstruction
, queued patiently in the mud. My driver enlisted the men from one of the lorries to cut a path through the bush for our Land Rover to pass, and after half an hour we were able to drive on.I had come to see Darain's lemurs - a small population of rare golden-crowned sifakas. Like most of Madagascar's fauna, the lemurs and their kin are endemic species, remnants of ancient times when the great island was attached to the 'super continent' of Gondwanaland. Ancient or not, the
villagers protect the sifakas
, believing them to be sacred spirits whose existence must be guaranteed if gold is to be found in the river.
"God gave us this river," one of the villagers explained to me, "and the lemurs have always lived here with us. We are so lucky to have this place, and we must keep others away so that they do not cut down the forest." He pointed out a mother lemur with a tiny baby clinging to her back and made a clicking noise with his tongue.The lemur froze and then cautiously edged backwards down the tree trunk until she was just within arm's length of the man's head. He held out a small banana, which she
grasped with delicate fingers
and then held in her teeth as she scampered upwards to a high branch to feast in peace. As we watched, the villager produced a small cloth bag tied at the neck with string. Inside he showed me a few grams of dark gold dust, which had taken weeks to sift from the river.
No one knows how much
gold is produced in Madagascar
, or exactly how many
carats of emeralds, citrines and amethysts come from the island's rich red earth. It is still a wild place, a country of fifteen million people where the infrastructure just about holds together and where every visit becomes an adventure.I love Madagascar. It is like nowhere on earth, and yet it is just one of the
islands in the Indian Ocean
which draw me back time and again, each visit producing a new memory and another glimpse of a world outside the normality of most holiday destinations.
The Indian Ocean islands first cast their spell on me more than fifteen years ago, and I have made return visits to them all more times than I can now remember. Madagascar, with its
mix of poverty and spirituality,
sometimes offers a dark view of life at the very edge of the developed world.Nearby
Comoros, a fragmented sultanate
, has been virtually forgotten by modern tourism industry, whereas the Seychelles, Mauritius and the Maldives continue to develop and reinvent themselves as
upmarket slivers of paradise
. In the middle of it all there is Réunion, a remote French province with its motorways and bistros, yet possessed of a magical mysterious interior where tiny villages maintain their Créole culture.
Shortly after my recent visit to Madagascar I found myself back in the Seychelles, where I once lived. The contrast with the immense untamed bulk of Madagascar couldn't be greater. On
tiny Frégate Island I scuba-dived in dark blue water
with reef sharks for company and, on land, stayed in one of the most luxurious private resorts in the world.
Instead of a potholed mud bath, the island's only 'road' was a thin concrete strip laid down between my private villa and the yacht club - just wide enough for two electric golf buggies to pass each other with care. Frégate Island had its own gems, not precious stones or gold, but something even rarer. The island is home to most of the world's magpie robins - tiny birds which, five years ago, were on the brink of extinction.
Thanks to careful habitat restoration and a breeding programme, there are now 99 birds on Frégate and a few more pairs on two other Seychelles islands. .The robins are a special attraction on Frégate, one of the Seychelles' granite islands - rugged little outcrops of stone and tropical vegetation clustered just below the equator. Famous as a honeymooner's paradise, the archipelago has more on offer than simply beaches.
Walkers and naturalists, for example, will find it extremely rewarding to do a little research prior to arrival. On the main island of Mahé I climbed a mountain and looked down on thick forested slopes as giant fruit bats emerged from the treetops and began cruising the air in search of an evening meal.
Down south, at Alphonse Island in the Amirantes, I went underwater again and watched a young turtle cruising the reef, ferreting about for something to eat, oblivious to the strong current which flipped it back and forth with its neck bending almost double as it held on to the coral with its jaws.. When people ask me where to go in the Indian Ocean, my answer varies.
If they are young, fit, and open-minded, then Madagascar is an option. If they are stressed-out executives who simply want a good hotel, maybe some diving and excellent food, then Mauritius or the Maldives are a better bet. The Seychelles are special to me, and if people really want to understand the culture of this tiny country then they need to
spend time on Mahé
, a destination all too often avoided by tour operators.
If travellers want the purest white sand beaches and the chance to be alone with someone special in a
breathtakingly beautiful environment
, then the outer islands of the Seychelles are the best option. And if the thought of beaches and small hotels with lots of other couples is too scary, then I recommend Réunion - especially if the traveller can get by with a little French."Do you really not have the Euro in England?" Time and again I was asked this question on my last trip to Réunion. Shop assistants would shake their heads and then warn me against the "new money", claiming that prices had shot up since it was introduced. By a quirk of longitude and a twist of time zones, the French citizens on this island were the
first people in 'Europe' to have the currency
when it was introduced in 2002.
Three hours ahead of Paris, the Réunionnais initially took pride in being at the forefront of the economic revolution. In fact, most inhabitants on the island have struggled with the new currency, and shop labels still give the price in 'old money'. Call me old-fashioned, but it certainly feels strange to fly for twelve hours from Paris and still be changing your money into Euros.It also seems strange to be stuck in a traffic jam in the island's capital, St. Denis, and be
completely surrounded by Peugeots
, Renaults and the odd Citroen. This is France alright: it just happens to be 9500km from Paris and halfway between Mauritius and Madagascar.
French newspapers arrive by plane
from Paris each morning, and satellites ensure that all of the domestic French TV channels are picked up in Réunion. The supermarkets are well
stocked with French cheeses, wines
, and of course bread in the form of baguettes.Away from the capital, which sprawls across one corner of the west coast, the island feel becomes gradually
more intense as you drive south
and follow winding roads which climb ever upwards into the interior. The air becomes cool and fresh as you enter
one of the great volcanic craters
(or cirques) that divide the centre of Réunion.
The
craters' interiors are so inaccessible
that, in the 18th century, runaway slaves used to flee here, sometimes evading capture permanently and setting up villages and communities well out of reach of the authorities. The Cirques of Salazie and Cilaos are now accessible by road, but Mafate, the third and most secretive, is still only reachable on foot (or in an emergency by helicopter).There is a fourth crater too, the
active volcano of Piton de la Fournaise
, but it is situated further south where it periodically spews molten lava towards the east coast. The latest eruption was only last year. At Hell Bourg, near the town of Salazie, I climbed a rocky path for two hours through the cloud forest to a viewpoint overlooking the Bébour forest.
Clouds scudded across the 3069m summit of Piton des Neiges, while trickling waterfalls sent ice-cold water cascading through the ferns clinging to the sides of the mountain. Wild
strawberries decorated the edges of the path
and tec tecs (tiny finches) hopped through the trees, chirping at me as I passed.There were
toads with glistening skin in the leaf mould
beside the steep track, and for five hours (there and back), I saw no other human beings. Back at my mountain hotel the night air was cool, as I ate steaming lentils flavoured with chillis and drank a glass of the sweet dessert wine made from grapes grown in the mountains.
Madagascar 
World's fourth largest island.
Spectacular mountain forests and national parks.
Naturalist's paradise with unique plants and animals, including 51varieties of lemur.
Beaches, watersports, plus fascinating cultures and ceremonies.
Bassas da India
Remote, almost submerged, atoll 10km in diameter.
Superb scuba diving with some 32km of reef to choose from.Comoros 
Once controlled by Muslim sultans, then by the French, now an Islamic republic.
Mountainous terrain with active volcano on Njadzidja.
The coelacanth, a "living fossil" was "discovered" in deep offshore waters.
Aldabra
World heritage site.
Limestone formations known as champignons dotted around lagoon.
Wonderful island and marine life, including giant land tortoises, turtles
and the flightless Aldabran rail.Réunion
Stylish mix of French and Créole: Euros, croissants, séga and sorcery.
Dramatic volcanic interior popular with naturalists, hikers and adventure enthusiasts.
Mauritius
Accessible tropical paradise for sun-worshippers and watersports fans.
British, French, Indian and Créole influences.  Superb deep sea fishing.
Infamous as the home of the extinct dodo. Rodrigues
Simple and laid-back: a Mauritius of 30 years ago.
Small volcanic island surrounded by reefs.
Activities include coastal hikes, diving and spelunking.Seychelles
Popular tropical paradise offering sun, sea, sand and watersports.
Dense forests, pink-boulder beaches and superb diving.
Several exclusive resorts and private islands, but little budget accommodation.
Maldives 
Most 'watery' nation on earth (99.6% sea).
1200 palm-fringed coral islands.
Pristine beaches, spectacular diving, snorkelling and big-game fishing.Copyright © 2004 Travel Africa Magazine. All rights reserved. Reproduction in whole or in part without the permission of the author is prohibited.